Clearhead Updates
Finding Purpose: Get into the thick of it with our (virtual) journey through an island of self-introspection
Embark on a virtual journey through an island of self-introspection to find your purpose. Explore transformative exercises and gain insights to shape your life with meaning and fulfillment.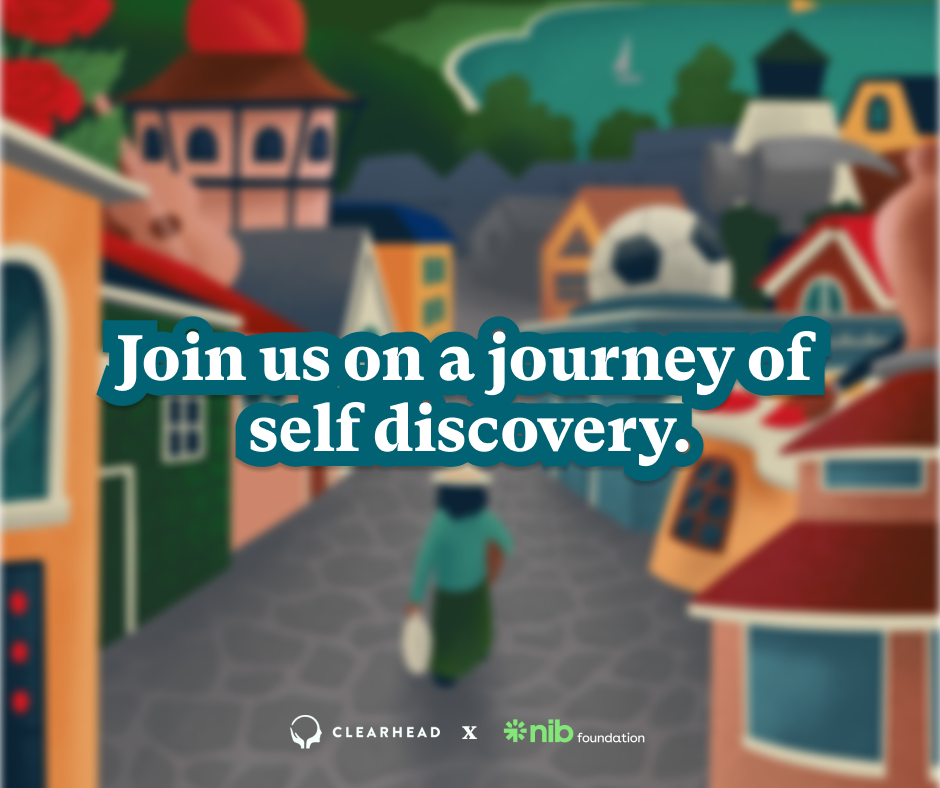 About Clearhead
In New Zealand, there is a growing mental health epidemic, where the demand for help continues to grow faster than the support available. To combat this and find a way to provide Kiwis with a therapist in their pocket at all times, Dr. Angela Lim joined forces with software engineer, Michael Connolly, to create an EAP provider with resources unlike the rest. Clearhead provides a platform that allows you to instantly book a session with professional therapists, as well as have 24/7 access to a digital self-help library, AI support systems, a mood journal, and our newest project, Finding Purpose, to ensure that high-quality therapy is only a click of a button away.
Finding purpose was launched to support our largest demographic of users who are 18-24 years old, followed closely by those who are 25-34 years old. We wanted to foster a platform for rangatahi to learn how to address their adversities through guided self-reflection. In a post-pandemic world filled with anxieties such as climate change, the soaring cost of living and an ever-changing job market, young people are struggling more than ever to find their purpose. It can be hard to know what makes you feel motivated, passionate, and fulfilled in a world that feels uncertain.
The tools guides users through "The Island of Purpose," where they will be asked questions about what they value in their relationships, what drives their career, how they approach their hobbies and interests and how they feel about their daily routine.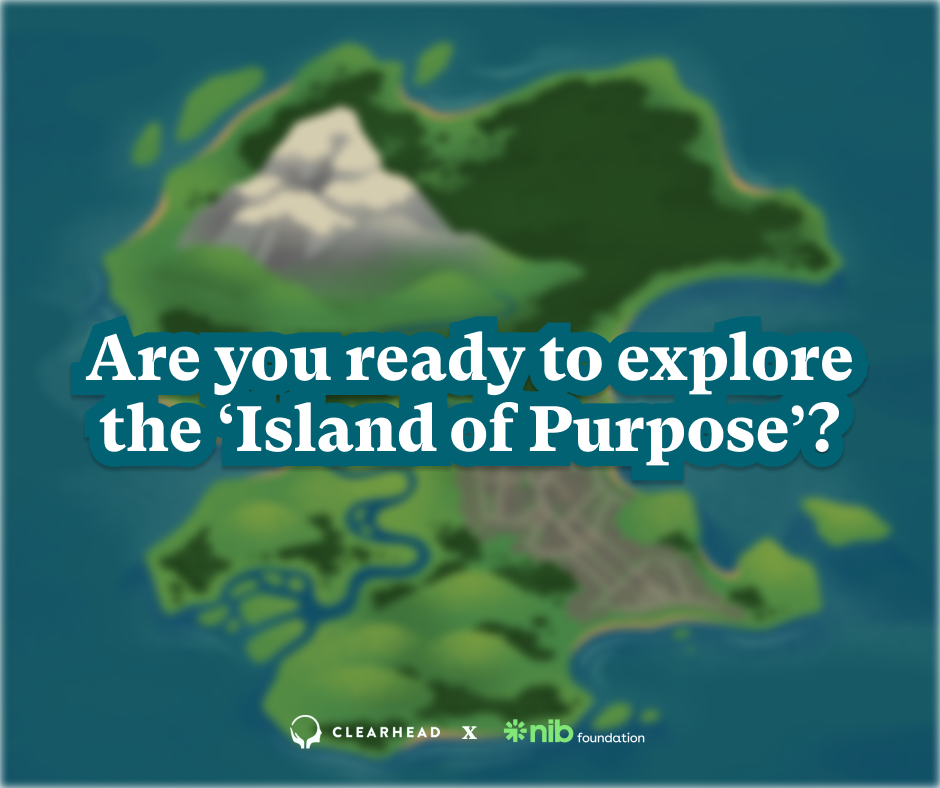 We all know the quote "Give a man to fish, you give him food for a day. Teach a man to fish, you give him food for a lifetime." This summarises what Finding Purpose aims to achieve; we don't want to tell rangatahi how to feel and what decisions are right for them – instead we hope to provide them with the critical thinking and self-reflection skills that allow them to ensure they are prioritising their own happiness and wellbeing.
The Creative Process
The brainchild behind Finding Purpose is Sam O'Sullivan, a Clinical Psychologist and the Product Owner here at Clearhead. Sam's inspiration for Finding Purpose came from three main sources: Dan Palmer's theories of Holistic Decision Making, Alan Savoury's method of Holistic Management, and David Hursthouse's technique of using holistic decision-making as a tool to map his own value systems. Each of these ideas centre on the fact that to create meaningful change, a variety of factors must come together and be improved at the same time. Sam applied this kind of lateral thinking to a therapeutic context: in order to find purpose in our lives, he believes that our relationships, hobbies, careers and routines must all co-operate with our values to allow us to grow and thrive.
Sam has continued to use these ideas to undertake Holistic Life Mapping with his clients for over 5 years, supporting them to find a deeper sense of purpose and identity. NIB then provided Clearhead with the unique opportunity to share Sam's knowledge by allowing him to develop a digital product that would be free and easy for people to use: Finding Purpose has now officially launched and is available online for anyone, allowing holistic mental health support to be accessible to more people than ever.
Challenges
The main challenge we are currently facing is figuring out how to keep people engaged with the tool online. In a group setting, it is much easier to be focused on an activity when everyone is using it together, collectively sharing in the experience and discussing their thoughts and results as they go. However, an individual completing Finding Purpose alone at home may lose interest or get side-tracked more easily, meaning they might not complete the whole island. It can be easy to lose interest in an activity that feels like hard work, so we are trying to make sure that Finding Purpose is chock full of amazing story-telling, beautiful imagery, and has a 'game-like' quality to it. This will allow it to feel fun, easy and approachable, despite its content requiring a lot of thinking and self-reflection.
Sam also says that in his private practice, he would generally go through Finding Purpose together with his client over several sessions, and provide his support throughout the process. This means for each area in Finding Purpose (Relationships, Hobbies, Career and Routines), Sam and his clients would do a deep dive, considering multiple answers and experiences for each section. In comparison to this, a digital user who is completing Finding Purpose by themselves may only choose to complete each section just once. Discussing more than one relationship, career, hobby our routine can help the user to get an even deeper understanding of their values, and get the most out of the tool.
These challenges mean that our priorities moving forwards are:
To ensure that people using Finding Purpose individually find it is as appealing and easy to use as possible, and
To amplify the tool by encouraging it to be used in workshops or other peer-to-peer settings.
Plans for the Future
Our main focus for the future of Finding Purpose is looking into the "Why." This means that for each area, we would like to pay attention to questions such as "Why do you value relationships like this?", "Why do you need this kind of career strength in your life?" "Why do you enjoy this hobby?", and "Why does your routine look like this," as these answers are often the greatest "A-ha" moment for most people when it comes to finding out what drives them in life.
We're hoping to be able to take these "A-ha moments" and use them to provide users with a final "Statement of Purpose" at the end of Finding Purpose, to give them a more tangible summary of their answers and provide them with a simple direction to focus on at the end. In order to achieve this, we will be analysing the "why" data we are already receiving from our user base, and then apply machine-learning to it to analyse the patterns in the data.
In a more general sense, our plans for the future are to continue with our one core goal: to provide as much access to good quality mental health and wellbeing support as possible to the people who need it. We fervently believe that mental health support should not be the ambulance at the bottom of the cliff, but an ongoing, regular process throughout an individual's life that supports them to be resilient in the face of their hardships and provides them with the skills to stay on top of their own wellbeing. We're excited to see where Finding Purpose takes us - with the guidance of user data, we may be at the forefront of catalysing a new trend towards fulfilling and wholesome living.